The Helicopter Association International (HAI) 2017 Heli Expo conference was held in Dallas, Texas last week. According to HAI, the event featured 17,778 attendees, with a new record for 322,800 net square feet of space used for exhibits and displays from 731 exhibiting business and organizations, as well as 62 aircraft on display.
There were also a total of 126 companies categorizing themselves as avionics manufacturers
or distributors. Here are 20 of the most innovative technologies that were featured at the
show in images below.
1. Bell's FCX-001 
Bell Helicopter displayed its futuristic FCX-001 concept helicopter at Heli Expo 2017 for the first time publicly. The FCX-001 features an airframe crafted from sustainable materials, a hybrid power system, an artificial intelligence co-pilot, and morphing rotor blades that change to suit different flight conditions. Bell also purposefully left the cockpit of the FCX-001 empty to show its desire for avionics that function more like a modern smartphone, which was a message constantly flashing on the large video screen at their booth at Heli Expo. Check out the FCX-001 below.
2. MD's 6XX
MD Helicopters unveiled its MD 6XX, also a concept helicopter, that was first announced publicly
by MD at Heli Expo 2016.
The 6XX features an all glass Genesys Aerosystems IDU-680 cockpit avionics setup and instrument flight rules (IFR) capability. Additionally, the airframe features a bonded three section airfoil design for the rotor blades and an extended composite boom.
MD expects to makes its first 6XX delivery by 2018.
3. Honeywell's Virtual Reality Headset
Honeywell Aerospace was letting attendees try out its virtual reality headsets at Heli-Expo 2017, capable of simulating various aircraft operational and maintenance scenarios.
4. Elbit Systems SkyVis
During Heli Expo 2017 Elbit Systems signed a long term agreement with Leonardo Helicopters to equip Leonardo's latest line of commercial rotorcraft with its Heli-ClearVision Enhanced Flight Vision Systems, including the SkyVis and Skylens pictured below.
5. Smartcopter
Astronautics Corp of America and JAGID (Jake's Aerospace Government International Defense) Management displayed a new roll-on/roll-off communication suite, Astronautics says. Called SmartCopter, the solution is a portable intelligence, surveillance and reconnaissance (ISR) cockpit situational awareness and communications system that expands ground-based operations for law enforcement and military operators.
The suite — which can fit inside a cargo compartment — features the Astronautics NEXIS server and an optional NEXIS display unit in the cockpit, as well as an Astronautics electronic flight bag (EFB) interface. The system also contains inputs/outputs for video, audio and data feeds and Wi-Fi capability.
6. Rockwell Collins' TTR-4100
Rockwell Collins had its TTR-4100 traffic alert and collision avoidance system (TCAS II) traffic computer for helicopters on display at Heli Expo. The avionics manufacturer notes that TCAS II provides helicopter pilots not only detection of other aircraft, but also automated resolution advisories.
7. Astronautics AFD Multifunction Primary Flight Display
Astronautics displayed its AFD 6800 primary flight display setup, which the company describes as
customizable being available in configurations from between 2-5 displays in the cockpit.
8. Aviation Specialties Unlimited Night Vision Helmet
Aviation Specialties Unlimited displayed its night-vision helmet with white night-vision
goggles and battery pack at Heli-Expo 2017.
9. Esterline CMC's 6024 Receiver
10. Curtiss Wright's Data Transport System 1-Slot (DTS1)
Curtiss Wright had its new Data Transport System 1-Slot (DTS1) single-slot network attached storage device on display at Heli Expo. The company sees the DTS1, and its small form factor capable of  up to 2 terabytes (TB) of storage as an ideal storage solution for size, weight and power (SWAP) sensitive helicopter and unmanned aircraft embedded setups.
11. Metro Aviation's IRIS System
Metro Aviation had its IRIS system on display. IRIS gives users the ability to record large amounts of data, process it onboard through a computer and filter it directly to communication or control centers every 10 seconds.
During Heli Expo, Sikorsky, Metro and PHI unveiled the ability of IRIS to now provide real time health usage monitoring system (HUMS) information to helicopter operators.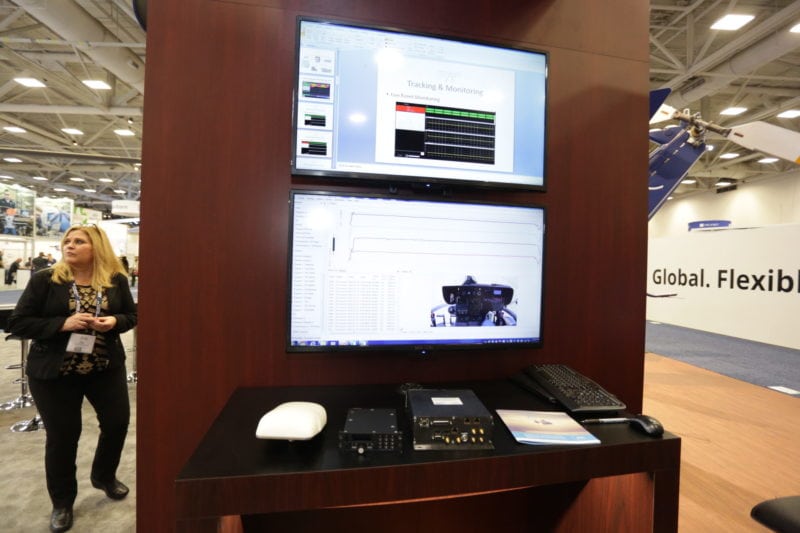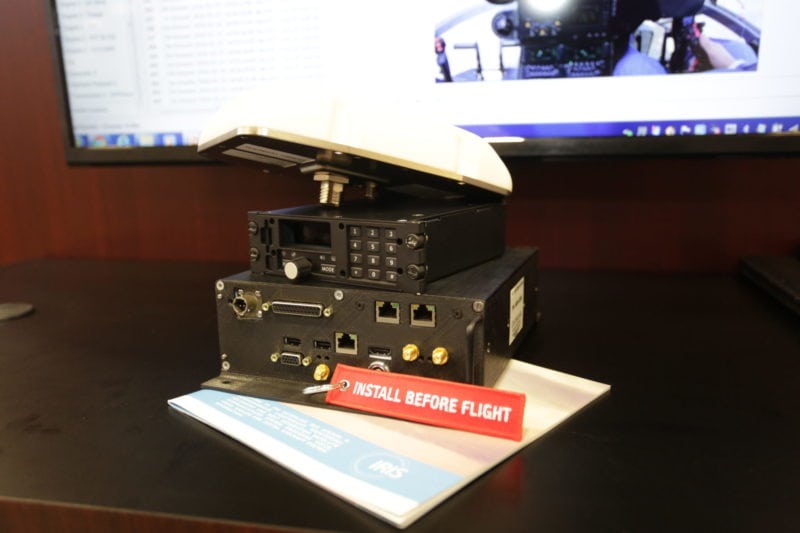 12. Korean Coast Guard's S-92
Sikorsky President Dan Schultz presented the South Korean Coast Guard with its "Winged-S" Rescue award for the unit's search and rescue response efforts. Sikorsky also displayed the Korean Coast Guard's special configuration S-92 during the show.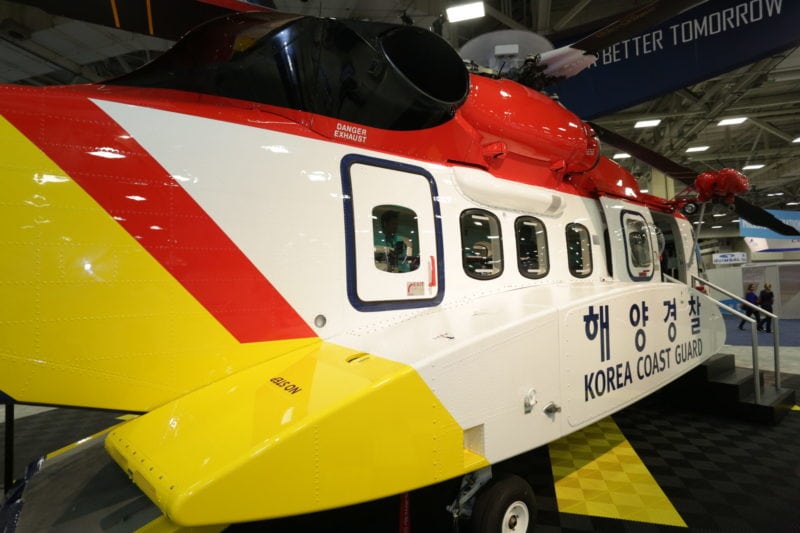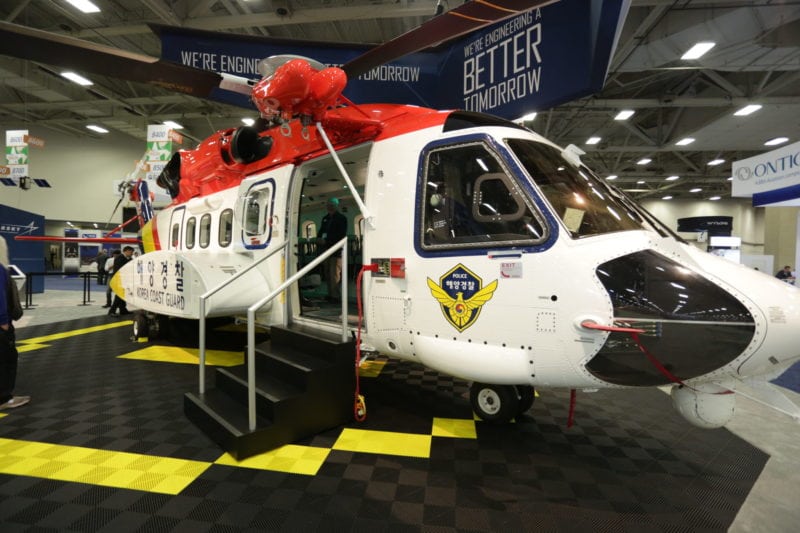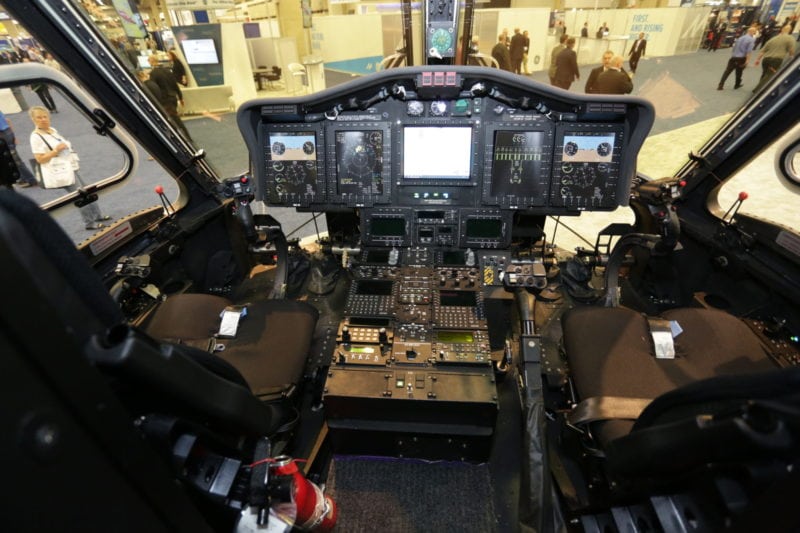 13. Marenco Swisshelicopter's SKYe SH09
Marencon Swisshelicopter had its SKYe SH09 helicopter on display, the one pictured here is
being operated by air rescue operator Air Zermatt.
The company also announced during Heli-Expo 2017 that a third prototype of its SKYe SH09, the P3, is set to fly in 2017, with certification expected in 2018.
14. Rogerson Kratos UH-60 Digital Cockpit
Rogerson KRATOS' Sikorsky UH-60A Black Hawk N683DN completed its first flight in Texas in January, making it the first full digital cockpit modernization upgrade of UH-60A to fly. The company had a mock UH-60A digital cockpit on display at Heli-Expo 2017.
15. Guardian Mobility's G4ME SilverEye Aviation
Guardian Mobility describes its G4ME as a global real-time tracking and two-way messaging all in one device. Using Iridium's latest 9603N modem, the G4ME enables communications on current and next generation satellite systems.
Connected to inputs from the aircraft, Guardian is able to capture accurate flight data and events and then report them in real time. Complete OOOI data delivered is directly to SilverEye Aviation application.
16. Luma Technologies Helicopter LED Panels
Luma Technologies added the Bell 206, 206L, 214ST and 412 platforms to their list of certified LED caution warning panels for retrofit and fleet modernization programs. Luma's initial supplemental type certificates (STCs) will cover installation of their LT-4000 Series LED Caution Warning panels as a drop-in replacement to the incandescent OEM versions.
"This is a big deal" says Bruce Maxwell, Luma's President. "It marks our return and first major offerings to the rotary market since our early days on FX AS350/355 performance kits."
17. Eye in the Sky Cockpit Video Recorder
The "Eye in the Sky" cockpit video recorder was developed by Louisa Patterson, CEO of
New Zealand air tour operator Over The Top. Patterson developed the video recorder after
her son was killed in a 2016 Robinson R44 helicopter crash. New Zealand's transportation
investigators were never able to determine a primary cause of the accident, but Patterson
said she believes if a cockpit video recorder had been on the aircraft it could have given
investigators better information about what happened.
18. AW189 Cockpit
Leonardo's AW189 cockpit avionics setup was on display at the show. The cockpit features a
4 axis autopilot, moving map system, weather radar, four Active Matrix Liquid Crystal Displays
(AMLCDs) and Helicopter Terrain Awareness Warning System (HTAWS).
19. Airbus H135
Airbus had the H135 helicopter on display featuring its Helionix avionics suite.
20. Thales 2020 Cockpit
The Thales 2020 fully integrated touchscreen cockpit was also on display at the show.